Multi-cloud computing
What is multi-cloud computing?
The multi-cloud is the combination of two or more distinct cloud computing services from various cloud vendors. An area with multi-clouds may become all-private, all-public, or a mixture of both. Firms use multi-cloud systems to spread assets in computation and reduce the risk of interruption and destruction of information. They may also improve an enterprise's computing storage and processing. Cloud developments in recent years as a result in a transition from private singular-user clouds to multi-tenant public clouds and community cloud which is known as a hybrid cloud to a centralized network that leverages multiple computing environments such as the public cloud and private cloud.  The term 'multi-cloud' is similar to those used in the term "Intercloud" or "fog-of-clouds".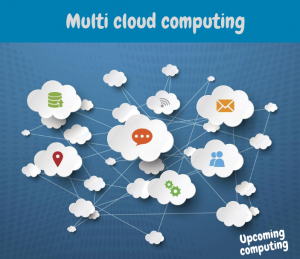 Figure 1. Multi cloud computing
The advantages of multi-cloud computing. 
Companies are all-in on multi-cloud as 93 percent of businesses have a plan to use multiple providers such as Microsoft Azure, Amazon Web Services, and Google Cloud to engage with consumers and capture more share of wallet, as per the Flexera Status of the Cloud survey. The results illustrate how multi-cloud has become the main platform in technology as businesses plan to combine clouds to prevent lock-in. Of 554 companies and 196 small and medium-sized firms, Flexera had 750 participants. 53 per the majority of people were heavy users of the cloud.
When a business focuses on a particular location, it might find that it is sufficient for the overwhelming bulk of its uses. Even so, if use this host indicates that the firm has to make technology concessions then its inventions that inevitably be severely restricted. Instead of going through the pain of moving all of its products to some other server that can help it evolve in the way it needs, multi-cloud allows it to operate multiple services from different platforms, each providing the most beneficial platform for its score significantly. To programmers looking for solutions that fulfil the unique interests of specific apps or utilities, a multi-cloud architecture is the best option in this way. The main advantage of a multi-cloud approach is that it decreases lock-in risk. The key danger here is that an organization may become contingent upon a specific supplier's technologies. Nonetheless, this can be solved by making the right choices when designing architecture and choosing a new provider where a stable, scalable network can be developed. A company prevents placing all its eggs in one bucket by using a multi-cloud implementation. When one cloud falls, users from other configured clouds will still be granted some features. Additionally, one public cloud might be used as a replacement for another cloud. Going into the cloud relies entirely on external service providers and as businesses are gradually using these providers, shifting away from them would be challenging. Nevertheless, by utilizing a multi-cloud approach, devices and infrastructure are spread through several vendors. This is also easier to switch back from using one of the providers as much of the technology is already in place during the conversion. When a company does not agree to use one cloud provider for all its technical requirements, it is free to select and choose the most suitable options from various vendors.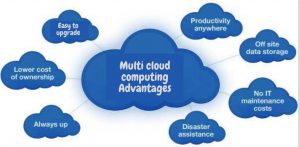 Figure 2. Advantages of Multi cloud computing
The security issue in multi-cloud. 
Experts and industry professionals have identified many security concerns in cloud computing, namely separation management, data disclosure and privacy, virtual OS protection, confidence and enforcement, and project assurance.8 Throughout decentralized management and exchange through multiple clouds, new security concerns are emerging. Issues relating to trust, regulation, and privacy are a particular issue throughout multi-cloud computing environments. Settling confidence and stable coordination. As with other IT structures, protection in clouds is highly dependent on creating relationships based on trust between the individuals involved. The need for trust exists when a customer waives the exclusive protection of the confidentiality and protection of his properties of cloud services provider (CSP). Doing so introduces the properties of a company to new threats otherwise reduced or unpreventable within an organizational structure. These dangers involve informant potential threats, weakening data property rights, syntactic emotional issues in polymer cloud services of third-party providers, and weakened system security oversight.8 A consumer should impart a high degree of satisfaction on a CSP with respect to its power to deliver effective asset-securing tools and procedures. Therefore, by using cloud-based services a customer should be able to embrace the higher rates of threat. Using proxy takes the trust barrier one step even farther: customers and CSPs now have to create a mutual trust with proxy, including acknowledging security, reliability, quality, and assurances of disaster recovery from a proxy. 
Architecture. 
A lot of companies are going for a multi-cloud approach. I 'd been working with AWS for ten years at my former employer, I only recently moved into the new position with such a Microsoft collaborator who obviously suggests Azure for a lot of workforces. For businesses, operating increasingly abundant through various cloud services may be for a range of reasons; some willingly or to reap the benefits of a wider range of functionality, many due to enforcement regulations or risk reduction approaches. Including internal processes, to customer-facing digital goods, the workloads can be everything. 
Infrastructure Services. 
With businesses, their inner datacentre or mission-critical knowledge that individuals are among the first tasks that they can want to transfer. These forms of human migration also form a company's network or datacentre extension through an implement efficient (AWS), Fast Route (Azure), or IPSec VPN (both). Internet traffic among cloud service providers also frequently traverses the based practice in the plurality of deployments that I've seen, which can also be viewed as a single solution.
Difference between multi-cloud and hybrid cloud. 
In particular, hybrid cloud applies to a cloud storage system that utilizes a combination of on-site, private cloud with a third-party, coordinated public cloud. An organization also embraces a hybrid cloud to accomplish a particular mission, including the order to move household tasks, and then explode into the public cloud as demand increases. As mentioned above, multi-cloud computing generally refers to the use of several public cloud providers, which is more of a basic philosophy to accessing which charging for cloud resources in the manner that appears appropriate for a particular enterprise. Multi-cloud also does not exclude hybrid cloud, as well as a hybrid cloud that may be part of the multi-cloud implementation. The models are not a condition either; it actually depends on what a company wants to achieve.