Digital marketing
What is Digital Marketing?
The digital market is one of the hottest buzz around the globe these days. Digital marketing is an approach to interact with the target audience and create product and services awareness over the internet using various digital mediums and platforms. In simple words: It is marketing over the internet
Digital marketing strategically succours businesses to reach and connect customers. An average use consumes the bulk of marketing data during his daily exposure to television, computers, smartphones, etc. These vast forums result in an information overload for the user to receive hence complicating the purchase decision. Businesses have realized the importance of the merger of traditional ways of marketing with online marketing tools to sustain a profitable business. The extended digital forums have provided tremendous opportunities for interaction with the customers. 
Using the internet, there is no need for the prospective customer to look for company's offerings rather many websites allow subscription services where a newsletter or catalog of latest products and services is sent to the user either via newsletter or sometimes through a message on the cellphones.
Why Digital Marketing?
There are several attributes of digital marketing which make it an irreplaceable choice in this era. These include, but aren't limited to:
Reaches wherever the target audience is:
Social media has become a preferred trend in customer relationships. People have more preference for brands. Many people nowadays admit that they approach social media only for the sake of getting information about the latest products being advertised over there. Social media has influenced their online purchase decisions to a great extent. Social media marketing is only a small chunk of digital marketing.
Target Specific: Every product and marketing carried out is for a specific targeted customer. Digital marketing has rendered segment dissection very clear.   The advertisement is then designed in such a way that influences purchase decision and criteria of that specific.
Personalized: Digital marketing allows personalization. Customers do prefer that companies approach them personally. An email has rendered subscription and subscription very simplified. An email is received with a customer name that develops a sense of being valued. The automation phenomenon advertises at regular intervals. With the help of a personalization approach, specific product offerings are made that suits their interests and requirements.
Greatest Return on Investment (ROI):

The email marketing has brought the highest return on investment to companies. For every $1 spent an estimated $38 revenue is generated. For some, it peaked at $70 for every $1 spent. Cost-effectiveness is an ultimate goal for every business so for them every dollar and every cent counts.

Matches the Buying Pattern:

The number of online searches on a daily basis has increased exponentially. It is estimated at 1 trillion per day. People make rapid buying decisions due to a busy lifestyle. Optimization of websites has helped companies to be quick and the top priority for customers.
Moreover, Market segmentation, Automation, and Personalization together have helped businesses to flourish by opening broad avenues and opportunities.
Platforms for Digital Marketing: 

Digital Marketing is not supernatural

.

Putting the right offer at the right time is the foundation for a successful marketer. Digital marketing puts marketers in the channels where the best prospects can be seen. There is a game of tactics that competitors play attracting buyers, nurturing long term loyalty relationships, and retaining the present customer base. 

Social Media Marketing: Brand awareness is created via social media platforms. Facebook being the most prominent then followed up by Instagram, Twitter, Linkedin, Snapchat, etc.
Content Marketing: Customized content is used here to attract customers and win the web traffic. The content is created and designed by experts that generate a wide customer base. Content marketing is a core pillar of digital marketing. It includes images, videos, blogs, podcasts, etc
Search Engine Optimization (SEO):

It is more like content marketing on a broader scale. Search engines like Google, Bing, Baidu, Yahoo, etc show comprehensive content about a product or service based upon the business ranking. Product visibility van be enhanced by optimization of your website or blog for achieving top rank on Search Engine Result Pages(SERP)

Pay Per Click (PPC): A technique of attracting web traffic where the publisher is rewarded for promotion of the company's ads. Google Ads, Paid ads on Facebook, Twitter ad campaign and Sponsored messages are common examples.
Email marketing: 

Emails may be used as a medium for the promotion of the company's offerings. Almost all websites offer subscriptions for newsletter options. Once subscribed, the customer received updates on company products. The best thing about this medium is that it allows customized/ tailored messages and often the receiver is addressed by name which in the long run creates a loyal customer base.
Over the past few years, companies and businesses were found to be dramatically switching to digital marketing forums. It has been surveyed that digital transaction volumes increased by 42% from 2011-2016.  As customers were migrating to online resources, companies were compelled to adopt them too. It is predicted that by 2020, more than half (50%) of the marketing budgets of businesses will be spent on digital platforms. Digital marketing is an extensive field. Companies need to adapt to it as with a small screen you can hit a massive customer base. The advertising strategy must accommodate the mobile environment. The launched ads must be displayed over traditional marketing media like billboards, television radio but more on digital media as an average household spends more time on the internet today than they used to do in the past. Hammering does have a positive impact on winning more customers.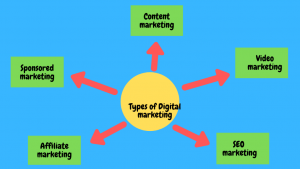 At the other end of the table, companies are collecting customer data and via careful analytics, they are upgrading their products and services that meet customer expectations level.
Perks:
Having sound digital availability has helped business in numerous ways:
It has rendered brand awareness and customer involvement in pre-sales and after sales.

It has resulted in higher customer loyalty levels.

Kick-off and startups have reaped the rewards broadly

Putting the right offer at the right time has reduced buyer's fatigue and discomfort.